Originally posted on the website of the British Antarctic Survey on 05/10/2023
British Antarctic Survey glaciologist Hamish Pritchard has won the 2023 Harry Otten Prize for Innovation in Meteorology. His idea, Lakes as snowfall sensors: solving the precipitation problem in the mountain cryosphere, proposes that lakes can be used as pressure-sensing surfaces to produce accurate observations of the water content of snowfall – simply, cheaply, autonomously, and over large areas.
With standard water-pressure sensors submerged on a lakebed, the mass of winter snow precipitation as it reaches the lake surface can be recorded, while avoiding biases that appear with other instruments that interact with snow as it falls or accumulates.
Hamish explained the importance of understanding changes to mountain glaciers: "For hundreds of millions of people, snow is a really important source of fresh water. When winter snow melts each year, the water allows crops to be grown through the spring and summer in the plains below. But snow is right on the frontline of climate change, so this water supply is changing fast and is under threat. To plan for these changes we need good climate models that get snowfall right, and for that, we need snowfall measurements that are more accurate and cover much larger areas than we currently have. This new lake method provides such measurements."
The jury awarded the first prize of €25,000 during the Annual Meeting of the European Meteorological Society in Bratislava.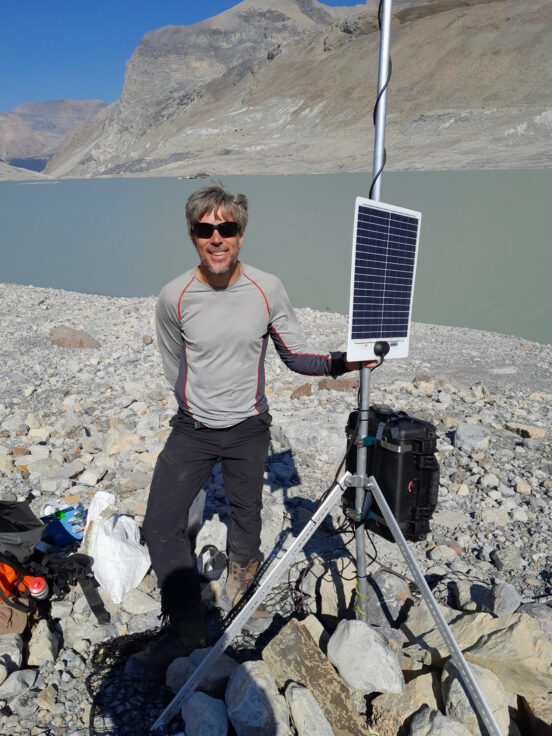 Hamish Pritchard, pictured on field work in the Himalayas (British Antarctic Survey)
Pam Emch, Chair of the Board of the Harry Otten Foundation, commented: "The idea put forward by Hamish Pritchard can help cost effectively address and improve the quantification of precipitation that falls as snow. An improvement in this measurement has applicability not only in meteorology, but also in water resources planning and management and could potentially be utilized for remote sensing instrumentation/observation calibration/validation."
The jury received 18 applications for the prize with lead authors from at least 14 different countries in Europe, Africa, Australia, and the U.S.A. The Harry Otten Prize is awarded every two years.